Elements of a Data Management Plan
Before starting a project, it's a good idea to determine what the responsibilities are for handling research data and to clarify the following aspects:
What data are produced and used?
What is the data type?
What data should or must be stored and why?
Which supplementary information is necessary to understand the data?
When does the data selection take place?
How long should the data be stored?
When and where are the data transferred?
Who is allowed to use the data?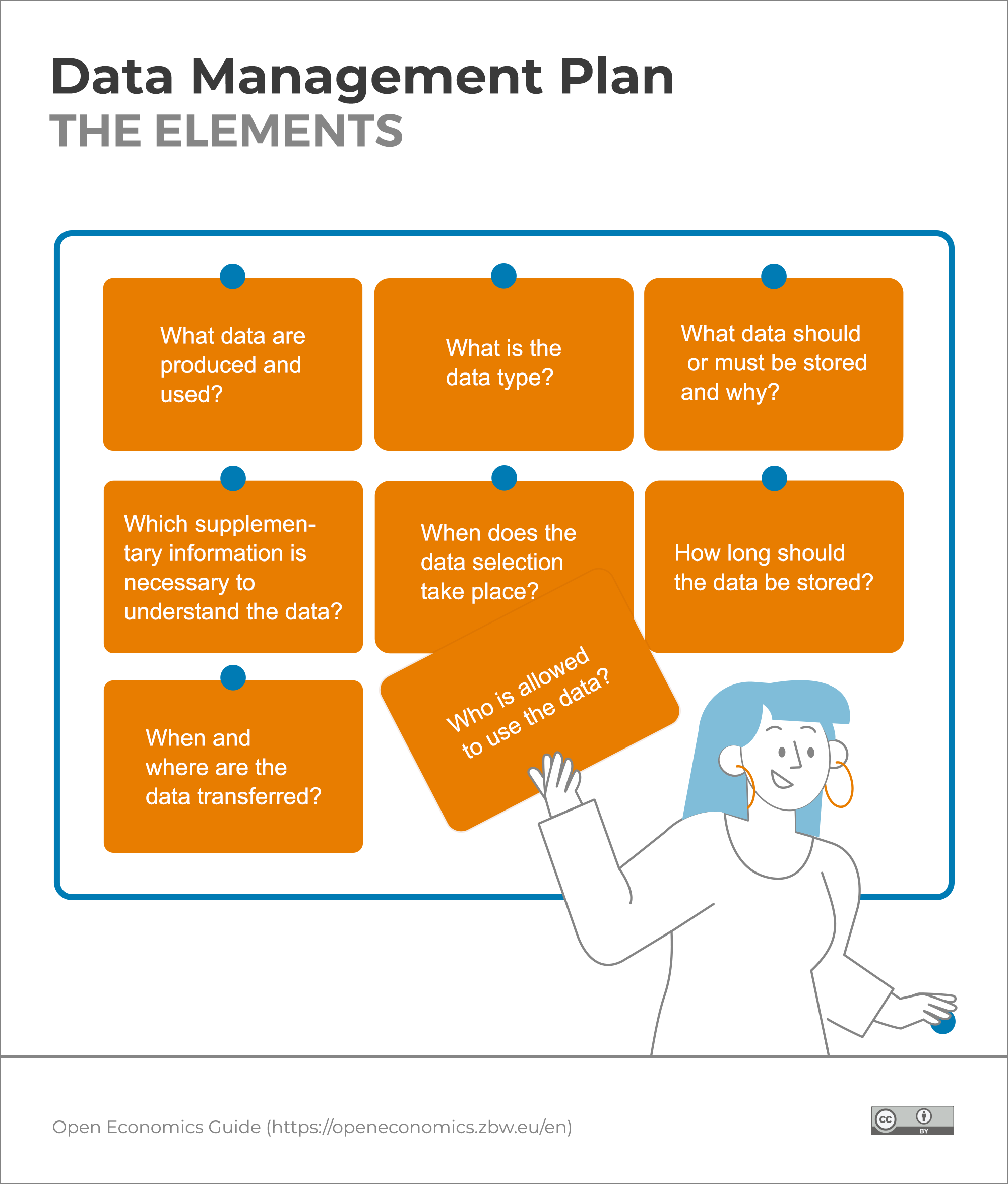 The DMP should also include the following:
Collection and documentation: Type, format and scope of the data that you will collect. The format of the data produced is usually linked to the software you used and has consequences for the opportunities of joint use and long-term archiving. The initial description makes it possible to compile documentation (metadata) that are beneficial for understanding your data and that will further enrich you during the production phase.
Storage and safekeeping: How will the data be stored and kept safe during your research? Who will be responsible for retrieving the data if there is an accidental loss?
Legal and security-technical issues: Which protection regulations apply for your data? Which methods will you use, to guarantee the protection of personal data or other sensitive data? You should find out about the data protection regulations (GDPR) in particular. When transferring the data and storing it long term, you should consider:
– which people would like to use your data,
– the criteria for the selection of the data that are to be shared,
– the duration of the storage of the data,
– in which repository you could deposit the data,
– the way in which your data could be made permanently accessible and traceable
(persistent identifier/DOI).
Responsibilities and resources: Designate the roles and responsibilities of the people who will work on the project. This is especially important for projects in which many researchers, institutions and groups with different working methods are involved.
The Digital Curation Centre offers a guide on "How to Develop a Data Management and Sharing Plan" and also a Checklist for a Data Management Plan. Tools for compiling a research data management plan are DMP Tool, RDMO and DMPonline.