Making research better with Open Science
Welcome to the Open Economics Guide, the central information point on the topic of Open Science for researchers from the field of economics. In this guide you will discover (more about the guide) how Open Science can enrich your research too, and increase your research success in the field of economics.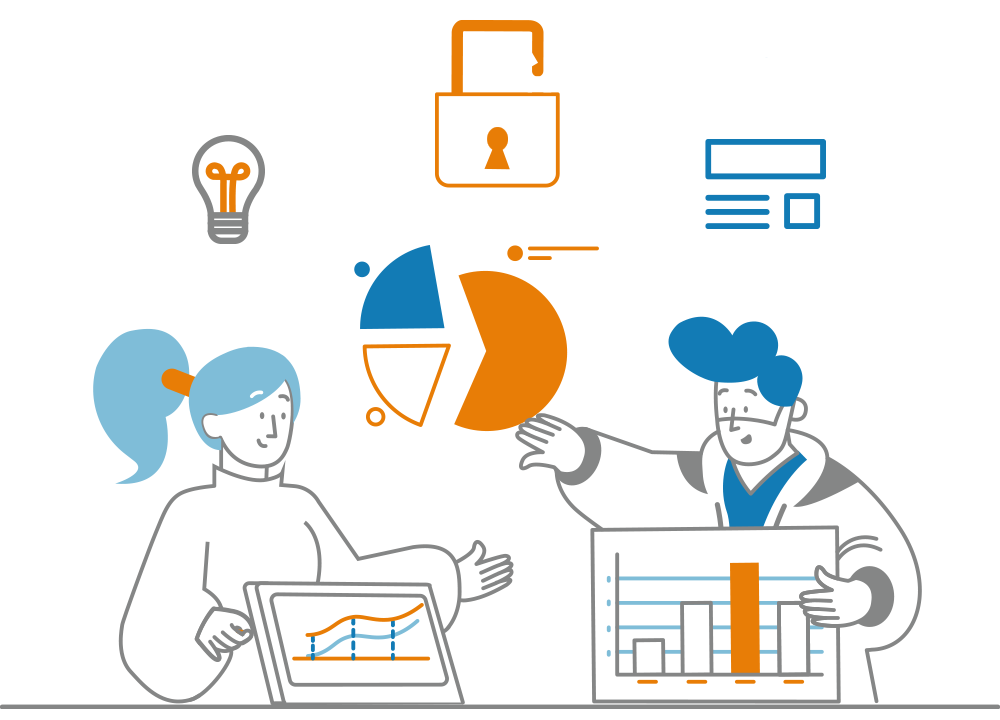 You make your research better with Open Science. Because Open Science opens up the scientific process. In an ideal situation, everything from the initial idea to the final publication is made openly accessible, replicable and reusable via the internet. Behind this lies the conviction that scientific findings should be openly shared as early as possible with as many people as possible, including those outside science.
Open Science is based on four fundamental principles:
Transparency
Reproducibility
Reusability
Open communication
Open Science is therefore in harmony with the established principles of good scientific practice. Good research is also distinguished by the fact that it promotes a culture of transparency among researchers and strives to maximise the benefits for society.
The Open Science movement began in the 2000s, thanks to the initiative of dedicated researchers. Open Science is now an element of many funding programmes and declarations.
These are the advantages offered by Open Science
Open Science represents best practice for scientific working through using the opportunities of digitalisation. It improves the quality and the credibility of research, which is important in view of the replication crisis and the associated loss of trust.
Open Science is not an end in itself but addresses current problems that exist within science:
Speeding up scientific progress: Open Science improves and speeds up research through increased transparency and better access to scientific findings. The fast knowledge exchange that Open Science enables leads to more collaboration and innovations in economics and society, thereby helping to answer complex research questions quicker.
Increasing trust in research results: Through the open access to scientific publications and research data, Open Science enables in-depth Peer Review to take place. This increases the reproducibility and transparency of research work, improving the quality of the research and promoting trust in science.
Avoiding wastage of resources: Open Science raises the efficiency of scientific work by ensuring better reusability and avoiding duplication of work, thereby creating positive economic effects. Open Science also contributes to the reduction of publication costs.
Minimising inequality, including in access to science: Open Science promotes equal opportunity, for example if scientific results are also made accessible to researchers in developing countries, if collaboration and the inclusion of larger sections of society in science are promoted. This makes it easier to introduce new research questions, thereby promoting critical thinking as well as scientific expertise in society.
Making publicly promoted research publicly accessible: Open Science makes publicly funded research results openly accessible. Taxpayers receive more value for their money. Open Science thereby has a higher impact and creates economic advantages.
Open Science thereby leads to a number of improvements for individual researchers, the entire science system and society at large.
Knowledge Base Open Science
Learn how Open Science makes research better: For faster and more efficient high impact science!
Open Science in economics
Open Science is increasingly being used in practice in the field of economics. It is primarily based on six main areas that serve to open individual parts of the scientific process:
Open Access: Publishing research results in an open way, and making them usable and accessible for each person
Open Data: Making research data public as widely as possible and making it reusable as FAIR Data
Open Educational Resources: Using free and open materials for education and in teaching, and making them available yourself
Open Methodology: Documenting the use of methods as well as the entire process behind them, if this is practicable and relevant
Open Source: Using open source technologies (hardware and software) and opening up your own technologies
Open Peer Review: Transparent and replicable quality assurance through Open Peer Review
Openness is a win-win situation for society, science and your own career. So what are you waiting for?