EconStor is a central Open Access publication server for publications in economics and business studies. Publications uploaded there receive a permanently stable, citable link, greater dissemination and more visibility. Learn how to publish there yourself in this blog post.
EconStor is one of the largest Open Access publication servers for research papers in economics and business studies and is heavily used worldwide. In 2020, for example, nearly 13 million documents were downloaded, almost 80 percent of them outside of Germany.
Nearly 240,000 working papers and other full texts
On the publication server operated by the ZBW – Leibniz Information Centre for Economics as a free non-profit service, researchers in business studies and economics as well as research institutions can make their publications permanently accessible and visible. The almost 240,000 full texts available there include in particular working papers, mainly from German business and economic research, but also journal articles, conference contributions and other types of publication. Increasingly, Open Access books (currently almost 2,000 books) from business studies and economics are also available. Publications stored on EconStor are automatically referenced in RePEc, Google Scholar and EconBiz, among others, giving them even more visibility. Browsing by authors, institutions and collections, document types, publication years, journals, and publisher monographs is possible in EconStor.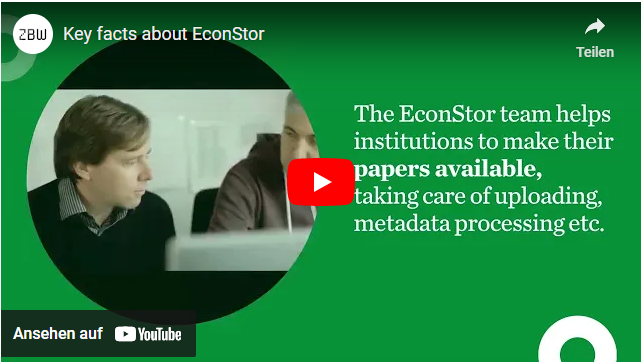 More than 500 research institutions worldwide are now using EconStor to distribute their publications. Among them are all German economic research institutes and many economics and business studies departments of universities, but also the London School of Economics (LSE), University of Oxford, Yale, NBER and ETH Zurich. In total, more than 130,000 authors are represented with their works on EconStor.
Two ways to publish on EconStor: Directly or via the research institution
Economic research institutions that publish their own publication series and/or journals ("e-journals") can make them completely available on the platform. For existing publication series and journals, the EconStor team offers a complete service, in which it takes over all work steps from the preparation of metadata to uploading to EconStor and continuously adding new issues.
Publish your own publications on EconStor
If you are doing research at an university for example, you can upload already published and/or peer-reviewed texts in the form of postprints (author versions, final drafts or original versions (publisher versions)) yourself. The advantages: Your publications are available in Open Access with a permanently stable and citable link and are more widely disseminated. In addition, you get insight into various usage statistics that show you, for example, the current number of EconStor downloads.
Log in to EconStor. In your personal area ("My EconStor") you will find an online form for submitting your own publications in five steps:
Select a collection that corresponds to your publication type.
Enter descriptive information about your publication.
Upload the electronic full text (PDFs only) to EconStor.
Review the entered information and the uploaded document.
Agree to a licence agreement.
After an editorial review, the EconStor team usually releases your document on the following working day at the latest and you can benefit from the Open Access advantages. Your publication in EconStor is now citable. To do so, use EconStor's citation proposal and stable link (handle), which you will find on the cover page, or share your publication on social networks using the share buttons.
For more information on EconStor and other Open Science tools, see the Open Economics Guide tool directory.