If you are looking for research data or a suitable repository to publish your research data, Re3Data is a one-stop shop. Now the directory is celebrating its tenth anniversary. We congratulate and show how it helps you select research data repositories.
For ten years now, the Registry of Research Data Repositories (Re3data) has been supporting researchers around the world. With entries from all major research data repositories (more than 2,800) across all research disciplines, Re3Data is the most comprehensive source of information on research data repositories. The search and filtering functionalities make the platform as useful for finding published research data as it is for selecting a suitable repository to store and publish one's research data.
New entries and changes in Re3Data are reviewed by an international editorial team in a multi-stage process. With its detailed descriptions of repositories, the platform promotes a culture of sharing and improves access to and the visibility of research datasets.
Numerous tools are based on data from Re3Data
Re3Data is also of central value because other tools helpful to researchers are based on its extensive content. These include the Repository Finder. It fosters the search for suitable repositories for publishing research data that support FAIR Data principles.
Another service based on Re3Data is F-UJI Automated FAIR Data Assessment Tool. Thanks to F-UJI, researchers can check in a short time to what extent a dataset complies with the FAIR principles.
How to use Re3Data for your research work
If you would like to start a search for data repositories relevant to you, follow these steps. Go to the home page of Re3Data. You now have two options:
Enter your search query into the search field. You can sort the result list according to your own criteria – for example, according to the name of the repository or the last update. You also have a variety of filter options. For example, you can filter the results list by the following details, among others:
Subject
Data types
Accessibility of the data or database
Licences
Openness of data upload
Institutional criteria
Keywords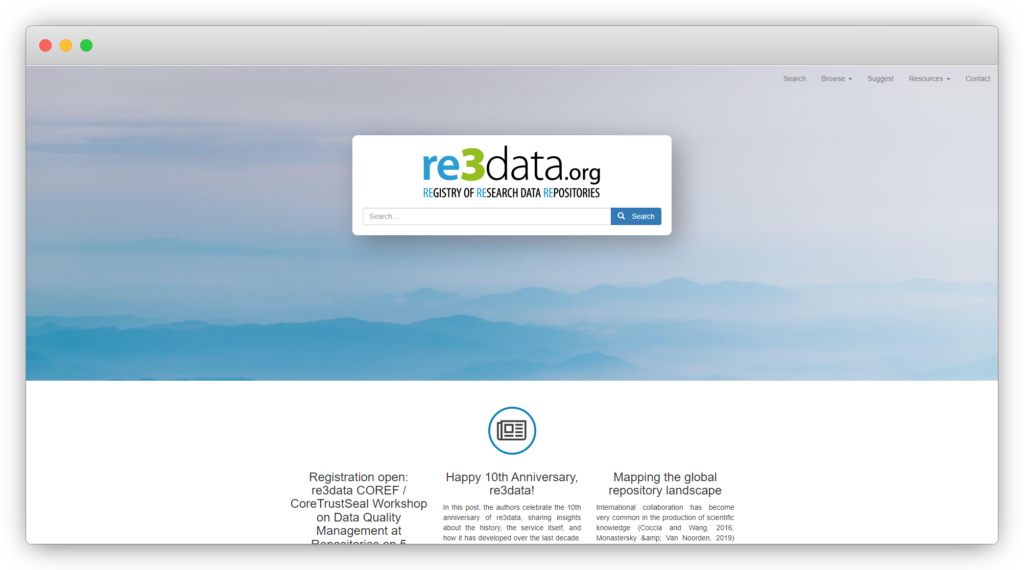 Alternatively, you can start by browsing by subject area, data types and countries.
Would you like to find out more about other data repositories or search options for data repositories? Then have a look at this introduction entry.
Further steps for identifying a FAIR data repository where you can store your research data in a well-discoverable way have been described in detail in the blog post "More attention through open research data: How to find a FAIR repository".