Nobody wants to accidentally publish in a dubious journal or with a dubious publisher. To prevent this from happening, there are a number of criteria you should consider. The website Think. Check. Submit. summarizes these in convenient checklists. Just try it out and gain confidence for a serious publication in Open Access.
Predatory publishing is a fraudulent business model used by certain open access publishers. These pretend to be fully fledged research journals. They charge publication fees to authors that are customary in the Open Access segment. However, they do not provide the editorial and publishing services expected of serious journals, such as proper peer review.
Checklists help select reputable publishers
Think. Check. Submit. helps you distinguish reputable from shady publishers. The initiative, led by leaders from DOAJ, INASP, ISSN, LIBER, OASPA, STM, and UKS, helps researchers identify trustworthy journals and publishers.
The criteria for assessing the trustworthiness of a journal or publisher are provided by Think. Check. Submit. in convenient checklists. Going through the checklists will help you to avoid predatory journals in your Open Access publications and to publish seriously.
Choose a checklist
Think. Check. Submit. offers a checklist for journals and a checklist for books and book chapters.
These checklists include a number of identifiers for reputable journal and book publishers, respectively, that should be checked and ticked if they apply. Submitting to a journal or book publisher is only recommended if you can answer most of the items positively. The checklists are available in several languages and provide explanatory background knowledge.
The completed checklists can be downloaded. In principle, it is possible to save them under the name of the respective publisher and thus compare different publishers with each other. It is also possible to download a checklist template as a PDF.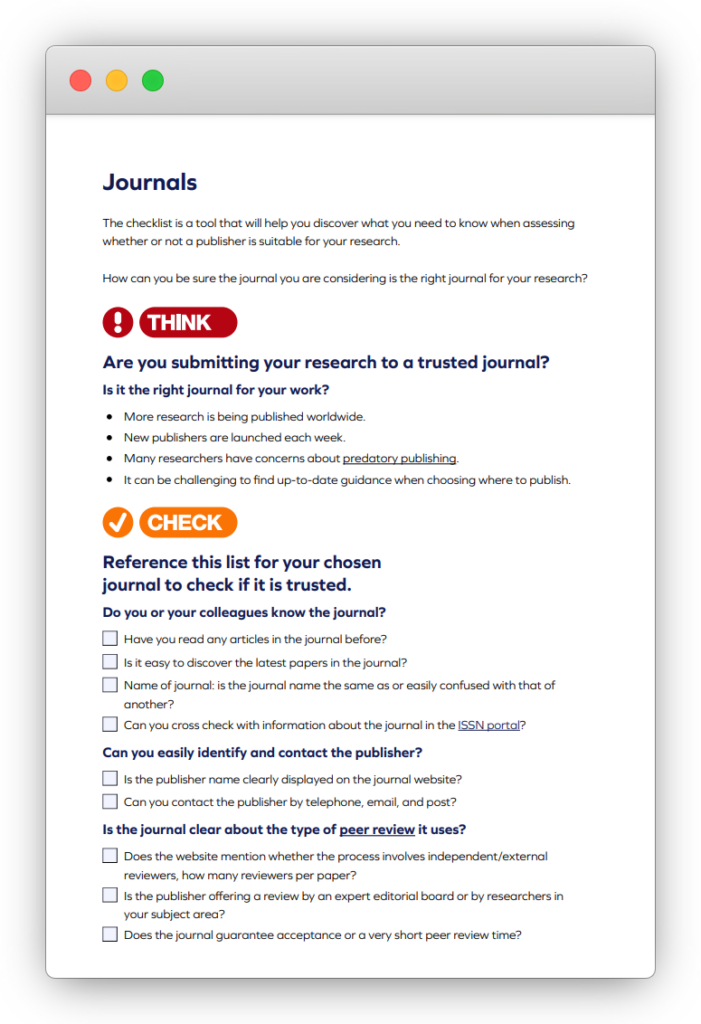 More tips against predatory publishing
More tips on how to avoid predatory publishing can be found in the knowledge database.